There are a number of beaches to visit in the area, the ones nearest are listed below. They range from golden sands, pebbly to volcanic black sand. Most have free parking but some you have to pay like at Ganavan Sands near Oban.
Taynuilt Beach
The beach below our house is the one I visit most, the views are always good and it's less than a minute walk away, easy to nip back for things you've forgotten or the toilet. The beach is a mixture of black sand and rocks, my kids spend hours there, looking for crabs or making sand castles or just playing in the water, sometimes you don't need to go far to have an excellent day out. Safe for paddling and swimming. It's quite shallow for a long way out and then shelves off. The dogs love it, it's probably they're favourite walk.
Ganavan and Wee Ganavan, Nr Oban
There are two golden sandy beaches near Oban. As you drive into Oban from Taynuilt you come to a roundabout. Take the second turn, at the next roundabout take the second turn and follow the road along for 1.2 miles (1.9km). Wee Ganavan is about a mile along, parking is along the side of the road and is free. Ganavan Sands is about another 0.7 of a mile (1.1 km) at the end of the road. Ganavan Sands has toilets but parking is not free. You will pass Dunollie Castle on the way to Wee Ganavan which is well worth a visit and has a Tea Room.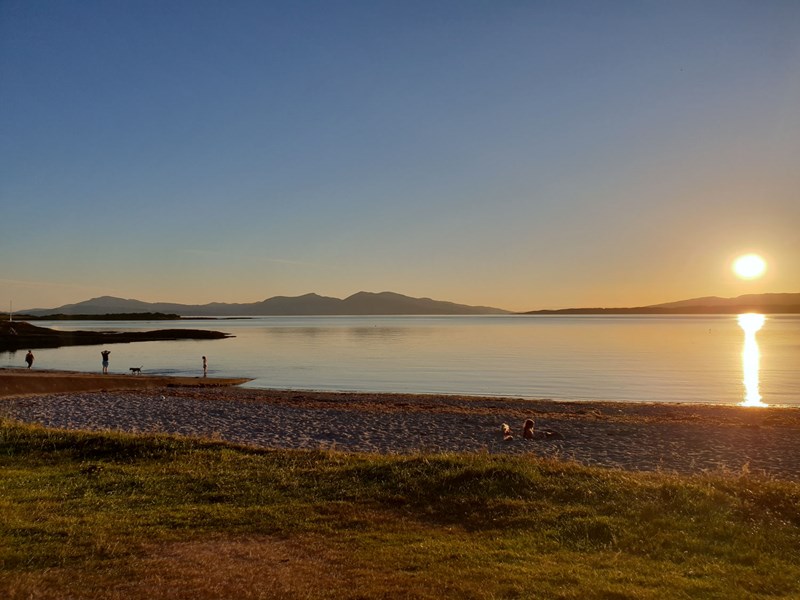 Tralee Beach, Benderloch
There is well over a mile of sandy beach with shallow water. The beach is sandy at one end with sand dunes and shingle at the other end. There are two ways onto the beach. The first is to park in Benderloch next to the Ben Lora Cafe (which has good food at a reasonable price), 10 miles away (16km) across the Connel Bridge and follow the signs to the beach about 0.75 miles (1.2km) away. Or go on through Benderloch, and turn left just at the end of the village, before you reach the Primary School, signposted Tralee Beach. There is an unmarked carpark on your right in a stand of trees, approximately 0.5 miles (0.8km) along. Cross the road and walk down the track to the beach, 0.2miles (0.3km).