This 250 year old traditional 3 bedroom detached croft house has been sympathetically modernised over the years to retain many traditional and period features; it does contain the odd low flying beam and door lintel! From its elevated position it has unbelievable sea loch and mountain views from all rooms. There are two south facing patios to the front of the house, with a large enclosed grassed garden, perfect for kids to play in. There a further two patios to the rear of house with another large grassed area perfect for the evening barbeque. The garden attracts many species of birds and animals and is ideal for barbeques, sun bathing, relaxing and admiring the views. The beach is 1km away and can be accessed via the owners own private track.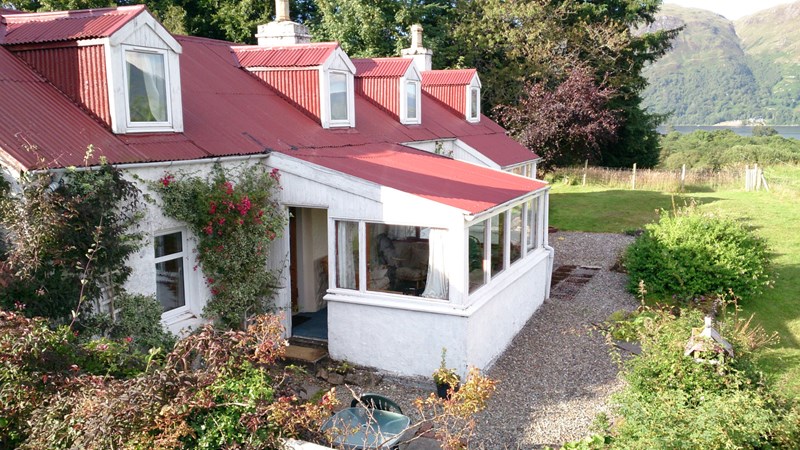 Accommodation consists of: large sitting room (bay windows, open fire & piano), upstairs double family room with king size bed, toilet on landing next to double room, kitchen, sun lounge/dining area, downstairs twin room, bathroom (separate shower), upstairs twin room (not suitable for very young children). Large porch with room for bikes, buggies, coats, wellies and wet (happy) dogs! Heating/hot water is supplied by an oil boiler and there are electric storage heaters plus a real fire placer in the sitting room. Oil and electricity are included in the rental (logs and kindling are available to buy or bring your own).
Brolas was orignally two croft houses, which over the years have become one large house. This accounts for the layout inside. At one end a sitting room with the double room above it and at the other end two twin rooms; one above the other. The upstairs bedrooms have coomb ceilings and dormer windows, the double has velux windows as well. In the middle downstairs is the kitchen with sun room leading off it. Each side has it's own stairs. The stairs to the twin room are steep with a stair gate fitted and are not suitable for unsupervised children.
Brolas has been in our family for generations and is part of a working croft with tractors and animals. We would ask that our guest bear that in mind. The stables and outbuildings contain farm implements/machinery and are out of bounds to guests.